Product for aquatic use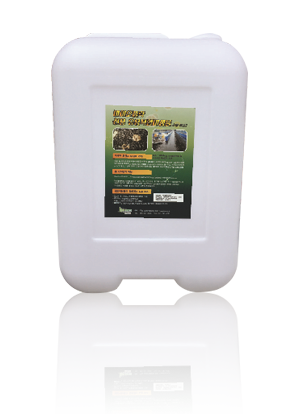 Description
The new technology of 'BIO FLOC', special ventilation aversion combination technology, was applied to give excellent sludge separation performance necessary for fishing culture, regardless of oxygen existence. The product is a special strain good at circulatory filtration system microorganism proliferation with high microorganism activity for 3 months in any conditions.
Features
· Applies to eel farming circulatory filtration system and purifies freshwater fish water
· Purifies nitrogenous sludge and ammonia due to fish waste, feed leftover, etc.
· Adjust the ratio of water, carbon and nitrogen to form conditions favorable for bacterial proliferation
· pH/nitrous acid/ammonia are controlled and water environment is improved.
How to use
· Calculate the total water amount and inject 1,000cc of Bio Floc microorganism and one 1,000cc container of microorganism activator per 100 tons of water a day through the back side of drum screen.
· Keep injecting until water is made according to pH, nitrous acid, ammonia concentrations and figures.